ASZ18 Heat Pump

Up to 18 SEER/ 9.5 HSPF Performance
R-410A Chlorine-Free Refrigerant

Outstanding Warranty Protection*
We believe that this may be the best warranty in the air conditioning business.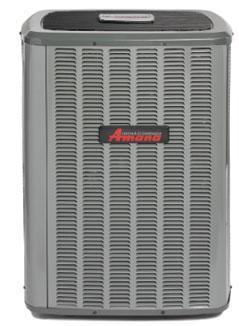 The compressor in your new ASZ18 heat pump system is covered by a Lifetime Limited Warranty*. If the compressor ever fails, a new heat pump unit will be provided to the original purchaser of the central heat pump system as long as they live in the same single-family residence. All remaining functional parts are covered by a 10-Year Parts Limited Warranty*. For a full description of all warranties applicable to this product, please click on the consumer brochure or product warranty links below.
Product Features
High-Efficiency Scroll Compressor

R-410A Chlorine-Free Refrigerant

High-Density Foam Compressor Sound Cover

Amana Brand Sound Control Top for Quiet Operation

Super Efficient Condenser Fan Motor

Long-Lasting Amana brand Quality and Durability

Performance Certified in Accordance with the Air Conditioning,
Heating, and Refrigeration Institute (AHRI)
Year round exceptional heating and cooling energy-efficiency is a primary benefit delivered by this heat pump system. It provides improved temperature and humidity control, and it uses R-410A chlorine free refrigerant. All features are what we believe to be among the best in the heating and cooling industry.
Additional Information
Before purchasing this appliance, read important information about its estimated annual energy consumption, yearly operating cost, or energy efficiency rating that is available from your retailer.
*To receive the Lifetime Unit Replacement Limited Warranty and 10-Year Parts Limited Warranty, online registration must be completed within 60 days of installation. Online registration is not required in California and Quebec.
Energy Star ratings are dependent upon conditions beyond equipment installation.
To make certain your HVAC equipment qualifies for the Energy Star designation get complete information at www.energystar.gov
Consumer Brochure | Product Warranty | Product Specifications