DAIKIN QUATERNITY™

All Quaternity systems qualify for the U.S. Governments Tax Rebate Stimulus package.
Quaternity incorporates extensive technological innovations giving features and benefits that deliver a solution significantly superior to a traditional "mini split" system. The system delivers one of the highest efficiencies on the market, with added features such as being able to set and monitor relative humidity, an integrated air cleaner module, and an excellent range of cooling and heating capacities. Quaternity represents a solution offering complete peace of mind.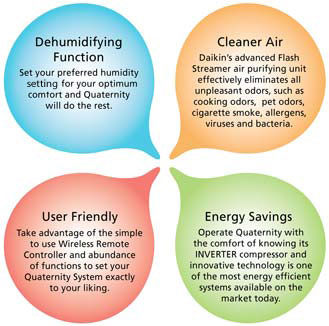 Product Features
First heat pump system in the world capable of controlling humidity levels to a determined setting.

Purifies and removes allergens from the air. Daikin's Flash Streamer technology is proven to deliver over 1,000 times faster purification versus normal "plasma" type systems.

Up to SEER 22 and EER 15.8, one of the highest energy efficiencies in the market

Delivers incredible heating capacity at lower ambient temperature (down to -4ºF).

One outdoor unit (RXG) connects to one wall-mounted indoor unit (FTXG).

Quick and easy duct-free installation.

Precision temperature control for individual rooms.

Space-saving design.

Simple to use wireless infra-red remote controller shows ambient temperature and room temperature.

Comfort and sound set-back ability with very quiet operation.

Quiet operation.
Click here for more product details!